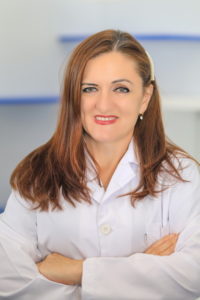 Name/Surname
Shkendije  Nuza
Address
Rr.  "Veli Vraniqi " pn, 10000 Prishtine, Republika e Kosoves
Telephone
Mobile: + 383 44 388 229

E-mail
[email protected],[email protected]
Nationality/Citizenship
Albanian/Kosovan
Date of Birth
25.10.1973
Sex
Female
WORK EXPERIENCE
Time Duration
Position
Radiology Specialist-Radiolog
Name  and Address of  Employer
Kosovo Clinical and University Center, Prishtina

Time Duration

Position

Name  and Address of  Employer

Time Duration

Position

Name  and Address of  Employer

01.08.2012-19.11.2012

Radiology Specialist-Radiolog

American Hospital, 10000 Prishtina

2007-2011

Radiology trainees

Radiology Institute, QKUK(KCUC), 10000 Prishtinë

Time Duration

Position

Name  and Address of  Employer

 

2004-2007

Medicine Doctor

QKMF, 50000 Gjakovë
EDUCATION AND TRAININGS

Time Duration

 

2007-2011

Name and type of organization provided the education or training
Institute of Radiology,QKUK , Prishtine
• Title of qualification
Radiology Specialist

Time Duration

Name and type of organization provided the education or training

 

1991-2003

 

University of Prishtina, Medicine Faculty

•  Title of qualification
Medical Doctor
| | | |
| --- | --- | --- |
| Native language | | Albanian language |
 
english language
Reading
Excellent
Writing
excellent
Speaking

Computer Skills

DICOM:

MS Office (Word, Excel, Power Point, Access):

excellent

SERBO-CROATION  LANGUAGE

excellent

excellent
Publicaitions.

 

 

 

 

 

 

 

 

 

 

 

 

 

 

 

 

 

 

 

Trainings , Congress Participations, Symposiums within and outside the country

 

 

 

 

 

 

 

 

 

 

 

 

 

 

 

 

 

 

 

 

 

 

 

 

 

 

 

 

 

 

 

 

 

 

 

 

 

 

 

 

 

 

 

 

 

 

 

Other Trainings

 

 

 

 

 

 

 

 

 

 

 

 

 

 

 

 

 

 

 

 

 

 

 

 

 

 

 

 

 

ADDITIONAL SKILLS

1. Abscesi i regjionit cervikal me tromboflebit të venës jugulare- gjetje rasti/                                                                                                          1. Abces of cervical region with thrombophlebitis of jugular vessels

Naser GJONBALAJ, Shkendije NUZA

Radiology Symposium, Struge 25-26 October 2014

 

2. Kriteret e rezonancës magnetike për trombolizë në infarktin akut cerebral/                                                                                                             2. Magnetic resonance imaging criteria for tromboliza on acute cerebral infarction;

Serbeze Kabashi,Ilir Ahmetxhekaj,Antigona Kabashi,Shkendije Nuza,Nebahate Avdiu,Aferdita Koshi.

Simpoziumi i IV i Radiologëve Prishtinë  Maj 2011/                       Fourth Symposium of Radiologists in Prishtina, May 2011

 

 

 

 

 

Participation at :sixth Croatian-Slovenian Ultrasonic Congress,  from 9-11 May, 2019 in Vodice" Croatia

"Detection and Diagnosis of Breast Diseases Using the Multimodality Approach". September 2018

"Advanced Pediatric Radiology Course" from 5th to 9th November in Graz,

 Participation at : ESSR MUSCULOSKELETAL  US OUTREACH   COURSE DUBROVNIK, CROATIA MAY 10 -13 2018

Pediatric Radiology Course: Inter-University Central-European Course "Essentials in pediatric radiology and imaging" that will be organized at Bucharest (Romania), June 20-23, 2017, by the Pediatric Radiology Group of the Romanian Radiological Society (GRP-SRIM)

 " Breast Imaging – Update " –  prof. dr.sci. Boris Brkljačić , Lovran , hotel Excelsior ; 7-8.04.2017.god.

SIS EUROPEAN  CONGRESS  OF BREAST DISEASE , OPATIJA , CROATIA, May 2015

Participated on the OMI second symposium, satellite broadcasting in KOMC, 7-8 October 2013, Prishtina

Participated on the IX-th annual Conference of Albanian Imaging Association on Tirana,  26 October  2013

Training program for antenatal care in PHC

– Participated on the III-rd Symposium of the Kosovo Association of Radiology – 2008

– Participated on  the I-st Congress of the International Association of Oncology in 2004

– Participated on  the Emergency Radiology Symposium in 2004

– Participated on  the First International Conference on Medical Emergency in 2009

– Participated on  the International Conference on Family Medicine 2007

– Participated on  the General medicine Conference Center Telemedicine in 2004

– Participated on  the Symposium III International General Surgery in 2008

– Participated on  the I-st Congress of the Association of Cardiologists in 2008

– Participated on  the First Symposium on Epilepsy and neuroscience in 2009

– Participated on  the World Hypertension Day Symposium in 2009

– Participated on  the II-nd Congress of the Society of Cardiology in 2010

– Participated on  the V-th Symposium on International surgeons in  2010

– Participated on  the International surgeons VI-th annual Albanian Conference on  Imaging Association

– Participated on  the 2nd Congress of the Kosovo Society of Cardiology

– Participated on  the V –th Symposium of  radiology

As well as numerous professional meetings in radiology and telemedicine center for the advancement and family professional medicine

I participated in the International Congresses abroad

And numerous  symposiums and congresses

Numerous trainings in the country and abroad in the field of Radiology.
Training in Emergency Radiology on 2009 Prishtina (Swiss-American team)
Mammography Training on  2010 (US Team)
Training at American Hospital (the advanced imaging) on April-July 2011
Training course on Introduction to Human Rights (by UNHCR) on May 2004
IAC Training within Family Medicine,
And I participated in many Congresses, Symposiums at home and abroad, where they possess relevant certificates.

·         Ability to fluent oral and written communication in English and Albanian language

·         Ability and willingness to work with people of different cultures and different religions who have different political views while respecting the principle of impartiality and objectivity.

·         Willingness to work in challenging working conditions and limited communication.

·          Experience and ability to work under pressure and within different time period.

 Flexible, able to work in a group, and sociability.